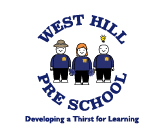 Pre-School Times:
Morning: 08:45 – 11:45 Afternoon: 12:30 – 15:30 Full Day: 08:45 – 15:30.
(Chargeable morning and afternoon sessions are £15.00 each)
We offer a lunchtime session from 11:45 – 12:30 at a cost of £3.75 (your child can either bring a packed lunch or pay for a hot dinner at an additional cost of £2.30.
The main gates to the school close at 09:00 daily. The McGhie Street gate will be opened at 11:45 for the collection of morning children and again at 12:30 for those children attending in the afternoon. It will re-open at 15:30 for the collection of afternoon children.
Entitlement and Cost:
Your child is entitled to 15 hours (5 sessions) free each week, additional sessions are charged at £15 morning/afternoon and £5 for a lunch session.
Think2 15 hours (5 sessions) of funded provision is available for those children who qualify through means tested benefits. There is a charge of £15 per session for all other children and children are eligible for a place the term after their 2nd birthday.
Pre-School also offer both 15 and 30 hours provision in our 3 & 4 year old rooms. All 3 year olds will be eligible for 15 hours the term after their third birthday. 30 hours can be qualified for through means tested benefits. Additional hours are chargeable.
This now allows you to access full-time school provision for your child with the pre-school setting on the school site.